With the huge popularity of TV show Westworld and recent film releases such as 2016's The Magnificent Seven and Jane Got A Gun, it's safe to say that Westerns are as ever a mainstay of Hollywood. Now though, with Maria Grazia Chiuri's first Cruise collection for Dior, it's safe to say that the fashion set is getting in on the gun-totting, cowboy boot-wearing game.
Set in middle of the Upper Las Virgenes Canyon Open Space Preserve in Calabasas, Los Angeles it was hard to imagine how close the show really was to the lights of Hollywood. Timed perfectly to start as the sun began to set beneath the Santa Monica Mountains, the set was like something out of a the golden age of the Western film (the 1930s): a cluster of safari tents in the raw Californian wilderness, industrial spotlights, and hot balloons.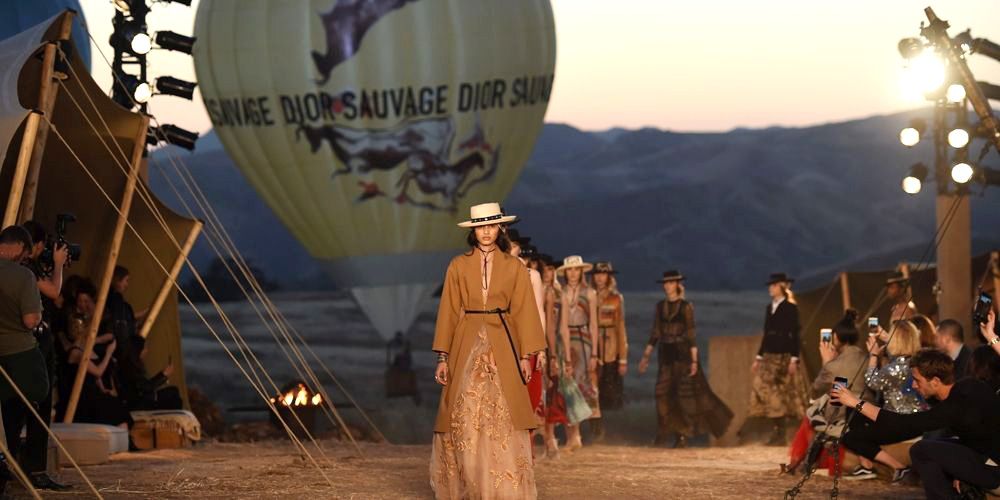 The 'woman' of the collection – Chiuri's inspiration and muse – was a pioneer woman, strong and rooted in the landscape that she calls home, an almost tribal, mystical incarnation of femininity. This strength and womanliness has been seen throughout Chiuri's work – from the woodland nymphs of the Couture S/S '17 show to the feminist fencing inspiration at the Ready To Wear '17 collection.
For the Cruise collection Chiuri turned to eclectic sources for inspiration: the art and personal style of Georgia O'Keeffe for one, her mixture of hard and soft, life and death in her paintings of skulls and flowers, and the 20,000 year old primitive wall painting in the Lascaux Cave. The result is a continuation of Chiuri's fascination of the natural world – delicate embroidery and embellishment of flora and fauna and images from the cave painting – and feminine details like soft fringing with harder elements such as a strict puritan silhouette, western style hats, rugged lace up boots and hardy materials like suede and denim.
"I think she's a little bit shamanic," Chiuri described her muse. "You feel these women, who are in contact with the natural elements and I really believe in that. In any case we have to feel our instincts and what we really want. It's good for all the women."
Where Chiuri will take her muse next is anyone's guess but one thing for sure is that the Dior Cruise '18 woman is the ultimate summer festival outfit inspiration. Coachella '18 outfit? Sorted.
Words: Esther Newman
Twitter: @estherbnewman